Rafkia Solar and Electrical - Ph Brett on 0421 711 389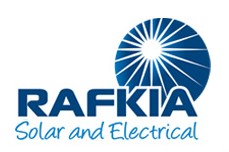 Brett Gillan established Rafkia Solar and Electrical because he recognised there was a need for an honest, reliable and skilled tradesman who could deliver solar, air conditioning , electrical and maintenance services in Brisbane.
As the founder and owner, Brett ensures Rafkia Solar and Electrical delivers all this and more.
PROMPT SERVICE. Your call is important to us. If we can't get to the phone it's because we literally have our hands full, but you can rest assured we will call you back. Once we know more about your requirement we'll arrange a mutually convenient time to meet you on site and discuss the task in detail.
QUALITY WORKMANSHIP. Every job is undertaken with the utmost care and attention; our standards are high and our workmanship will stand the test of time.
QUALIFIED PROFESSIONALS. We not only have the experience, we have all the necessary qualifications that are required by law to work in our industry. Plus we are very big on safety, so you can rest assured you are in very good hands with Rafkia Solar and Electrical.
MOTIVATED AND ENTHUASISTIC. We enjoy what we do and it really shows through in our attitude. We get in and get a quality job done as quickly as we can. We are respectful of your budget; while we work quickly we never cut corners.
GREAT VALUE. You'll be hard pressed to find better value anywhere else. At Rafkia Solar and Electrical, our prices are extremely competitive, but perhaps most importantly, our solutions are tailored to solve your problems perfectly