Renewable Energy Solutions - SolarQuip - Ph 1300 851 255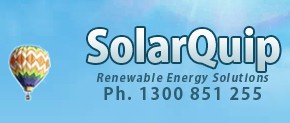 SolarQuip has been a trading company since 2003, installing a large number of renewable energy systems in a wide variety of locations for residential and commercial applications.
With offices in the Yarra Valley and Carlton, SolarQuip services the larger Melbourne area with consultancy services across the Pacific region.
As a small business, our priority is quality of service and ensuring that you are provided with a solution that meets your unique location and its unique characteristics – and that you are completely satisfied with your service.
Our satisfied customers include Swinburne University of Technology, with installation of a Skystream wind power plant as well as solar installation, including educational components for students.SolarQuip has installed solar at Victec Training Centre and a 200 panel thin-film solar installation at The Gordon TAFE, Geelong..
Contact: Sales

Ph 1300 851 255 or see email form from our website link below