Crookwell Wind Farm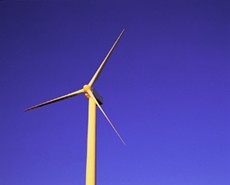 As a renewable source of energy, wind power enables electricity to be generated without carbon dioxide (CO2) emissions. More and more electricity companies are turning to wind power to make electricity. Country Energy is a partner in four of Australia's largest wind farms, the Blayney Wind Farm and the Crookwell Wind Farm, both in regional NSW, the Lake Bonney Wind Farm in South Australia and the Wonthaggi Wind Farm in Victoria.

Each year our wind farms save thousands of tonnes of carbon dioxide that would otherwise have been produced from coal-fired power stations.
wind farm facts & figures
The Crookwell Wind Farm has eight 45 metre-high generators. The three-bladed rotors on each turbine have a 44 metre diameter and a rotational speed of 28 revolutions per minute (rpm).
Each generator is comprised of a 36 tonne steel tower and 27.5 tonne worth of hub, blades and casing. The generator towers or turbines are set in 105 cubic metres of reinforced concrete foundation.
The wind farm's turbines automatically start turning when wind speed is greater than 15 km/hr. The turbines reach maximum power at wind speeds of 54 km/hr and automatically shut down in very high winds greater than 72 km/hr. The turbines are also protected by a lightning protection system.