EKO Energy simple solar power solutions. Ph 1300 35 63 63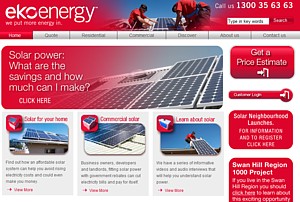 EKO Energy started out with just one man with a vision to make solar energy affordable for his own home and family. By mortgaging his home, he was able to buy solar systems in bulk, which he then shared with his neighbours, so that together they could save money, energy usage and greenhouse gas emissions.
The word soon spread until today, we've become one of Australia's largest renewable energy companies. Our team of expert installers have brought the power of the sun to thousands of families – and businesses – all over the country. No-one's going to put more energy into getting you onto solar power because it's what we truly believe in.