Edwards Solar Hot Water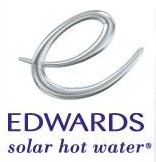 Alan Collier Edwards and the inspiration for the first Edwards hot water system both originated from the farmlands of the South West of Western Australia. The post war era saw Alan Edwards working the fields of a small farm holding and returning each evening to a humble farm cottage deprived of all conveniences.
After the evening meal he would light his cigarette from the top of the glass chimney of the aladdin table lamp used to light the room as electricity was not available. One evening while lighting his cigarette he casually passed the comment to his wife that he was surprised by the amount of heat which came from the simple kerosene lamp.
From this observation he decided to build a hot water system using the aladdin lamp as the source of heat. Taking a discarded 44 gallon drum he cut a hole in the top and bottom lid to allow an old piece of galvanised iron pipe to be fitted and act as a central flue. (See website for more information)