Energy Quotes - Call 1300 697 868 - Mon Fri 8.30am - 8.30pm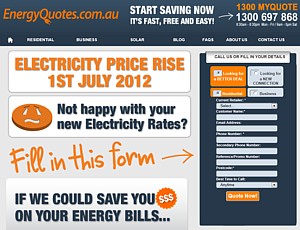 EnergyQuotes.com.au is proudly an Australian owned and operated business. We are based in Melbourne, as are all of our team.
Our mission statement is to save money and provide an exceptional customer service to all hardworking Australians on their household and business energy bills.

Our customers will be secure in the knowledge they are getting honest and good quality service from people who, like them, genuinely want to save their hard-earned money.
The owners of EnergyQuotes.com.au understand the importance of shopping around. We value every dollar and know how important it is to receive honest advice and quality service.
With a broad knowledge and experience within the energy industry from Residential customers to Commercial and Industrial customers. EnergyQuotes.com.au is here to help you save your money. Our staff are the backbone to our business.
http://www.energyquotes.com.au/