Star8 commercial solar solutions - Port Melbourne VIC 3207 - Ph 03 9646 3340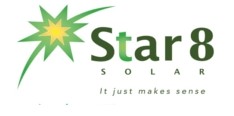 Star8 proposes the best commercial solar solutions according to ones need; a large Rooftop, Open land area or parking facilities with a commercial solar energy system, non-revenue generating Real Estate with the advantage of reduced electricity bill.
Star 8 is an innovative solar company, continuously introducing new solar products and applications to the market. As a leader in residential and commercial installations in Australia and holder of innovation patents for Flexible solar, solar transparency glass and Cement solar tile we strive to offer the best custom solution for every solar power installation project. With pending patents on additional solar tile technologies and a revolutionary SolarTuk, Star 8 is leading the way in innovative and functional solar.It just makes sense.