Adelaide Solar - Gotta Getta Group - Ph 138 444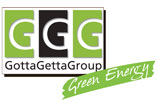 Gotta Getta Group Green Energy can tailor any system to suit the client's specific needs. As a company we only provide products that meet the highest standards, hence giving us the ability to include the "Quality Endorsement" seal of approval.
We offer a free in home consultation enabling us to provide you with the best system to meet your own individual needs.
Why Choose Us
Gotta Getta Group have been in the business for 26 years and provide a range of products and services. Gotta Getta Group are not just a solar company and when the current solar rebates disappear and other solar companies disappear with it, Gotta Getta Group will still be around, providing you with high quality solar and any other home renovations you may require.
| | |
| --- | --- |
| We pride ourselves on providing quality service: we don't just do any generic quote over the phone, we want to provide our customers with the personalised service that they deserve. We will come to your home and fix up a quote tailor made just for your home and what you need | |
| | |
How It Works
Solar panels are located to maximise exposure to the sun and minimise shading. A north-facing roof at 35 degrees is optimum; however, orientation within 45 degrees east or west results only in marginal power losses: approximately 20%.
http://www.gottagettagroup.com.au