Solar Power and Hot Water BRISBANE - Earthsave - 07 3865 3909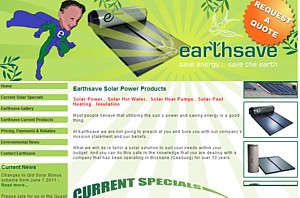 Most people believe that utilising the sun's power and saving energy is a good thing.
At Earthsave we are not going to preach at you and bore you with our company's mission statement and our beliefs.
What we will do is tailor a solar solution to suit your needs within your budget. And you can do this safe in the knowledge that you are dealing with a company that has been operating in Brisbane (Geebung) for over 10 years.
http://www.earthsave.com.au/index.php