Clark Water Tanks Australia - Phone 1800 88 79 79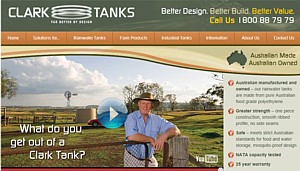 Clark Tanks are leading manufacturers of quality polymer rainwater tanks and farm products.

Manufacturing since 1997, Clark Tanks are designed and built to last in tough Australian conditions.

As an Australian owned and operated company, we are committed to providing quality products designed to meet the needs of rural and residential Australia.

You can count on Clark Tanks for reliable performance, endurance, style and value.