Solar Panels South Tweed, Brisbane, Townsville, Cairns, Maroochydore - Ph 1300 146 346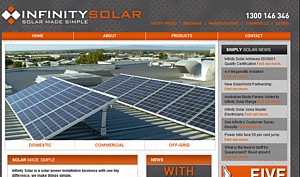 Infinity Solar is a solar power installation business with one big difference, we make things simple.
When it comes to choosing a company to provide your solar power system the choice can be mind-boggling. And for every good company out there, there are lots of bad ones. That's why at Infinity Solar we prefer to let our happy customers do the talking. With 99.3% customer satisfaction we live up to our promise of having the best service, best systems and best prices.
We specialise in creating customised solar power solutions for all applications, from residential and commercial to rural and architectural. So no matter whether you need a standard PV grid connect solar power system or a customised off-grid or building integrated PV (BIPV) solution, we can help. And we can arrange everything for you, so all you have to do is enjoy the benefits.
Save power, save money and save the environment by talking to Infinity Solar on 1300 146 346 or emailing us today. It's solar made simple.
http://www.infinitysolar.com.au