Apricus AP solar collector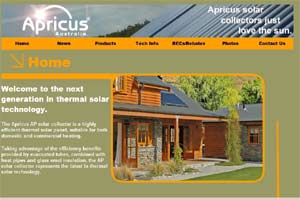 The Apricus AP solar collector is a highly efficient thermal solar panel, suitable for both domestic and commercial heating.
Taking advantage of the efficiency benefits provided by evacuated tubes, combined with heat pipes and glass wool insulation, the AP solar collector represents the latest in thermal solar technology.
Apricus Australia is a specialist in the supply of solar hot water and hydronic heating to both the domestic and commercial markets.
At Apricus, our focus is to provide effective solutions for families and businesses concerned about rising energy costs and climate change. We are dedicated to the design, manufacture and distribution worldwide of premium quality products that provide both economic and environmental benefits.