Solar Dude - Canberra and Sydney - Phone 1800 644 127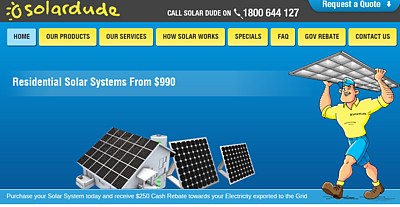 At Solar Dude we pride ourselves at making a difference in the Renewable Energy market. We offer Premium Products at Competitive Prices. Only employing experienced Clean Energy Council accredited designers and installers.
You too can make a difference to our world by using one of our Residential, Farming or Commercial Solar Systems tailored to your requirements.
Start saving today on your electricity by ordering your Solar System from Solar Dude and receive up to $250 for electricity exported to the Grid over the next 2 years.
Take advantage now of Government Incentives which reduce in June 2012.
Purchasing your Solar Energy System from Solar Dude will reduce your Carbon Footprint with a reduction of Greenhouse Gases. Your purchase of our Solar Panels will contribute to a cleaner environment by reducing the reliance on coal fired electricity.
Thanks for dropping by, we look forward to helping you on your journey towards cleaner energy.