Solar Quotes - Free Service - 3 Solar Quotes in your Area in Australia - PHONE 1300-370-173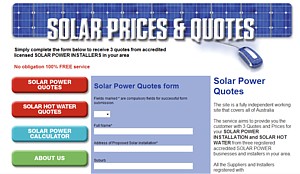 National Solar Group is one of the largest independent installer of residential solar panel systems in the country. The company has grown its retail brand 'True Value Solar' organically, it also wholesales and franchises to smaller solar retailers nationally.
National Solar Group employs approximately 120 staff, including a core Solar Specialist team of over 50 personnel. In addition, National Solar Group retains a pool of 120 Government approved subcontractors who carry out the solar installations for the Group on an exclusive basis. The National Solar Group team are passionate about the benefits of solar and are dedicated to educating customers to ensure that they get the right system and save money.