Solar Solar - Brisbane Solar Panel Installation - 07 3325 4255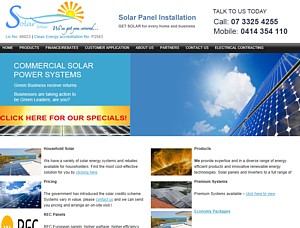 Solar Solar is a family owned and operated Electrical Contracting business with a focus on helping and educating families to reduce their own power costs while also ensuring a future for our planet.
We're a solar power family! Angelo Messina, has been operating his own Electrical Contracting companies for over 25 years, is a qualified Electrical Contractor, Installer, Gardener and Landscaper. He even has a bachelor of Theology.
Angelo's wife Mauritia handles all of the administrative aspects of the business – including marketing and finance – her background is in debt consolidation, mortgage broking, and property development. She's the person who'll visit you in your home to discuss the Ezy Pay Express options.
"We can't wait to start helping families like yours benefit from reduced power bills through solar power."
'Being of Italian heritage, I know the value of having a veggie garden, chooks, a water tank and so on,' says Angelo. 'I believe solar power is the next logical continuation of that, and it's something we need to teach our children and grandchildren.'
The family's dream is to support thousands of orphans all over the world through their affiliation with Destiny Rescue and make a positive difference in their lives. "Every solar panel system we sell we donate something to the rescuing children fund"