Sunpower Design - Award winning integrated sustainable building designers - 03 9386 3700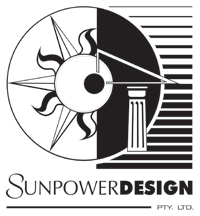 Sunpower Design are leaders in integrated sustainable building design with 30 years experience and over 33 National and State awards for energy efficiency building and sustainable design.
Let us design you a home that is beautiful, knowing that you will enjoy a degree of independence against present and future water and energy cost increases and shortages.
Our speciality is giving you a home that is extremely comfortable and way exceeds the energy performance levels of 5 Star Rated design. We integrate sustainable features such as rainwater collection, alternative power sources, grey water recycling, solar hot water and water efficient landscaping into the fabric of the design. We can support you during construction by working closely with your builder to maximize a smooth flowing process. Our new sustainable homes are achieving a minimum of 7 Star Rating which is double the performance of 5 Star.
http://www.sunpowerdesign.com.au