SUNTECH AUSTRALIA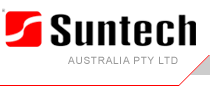 Suntech Australia is committed to bringing the latest solar panel advancements in product design to the marketplace, at an affordable price.
Renewable energy products continue to play an important role in the world's power consumption, and Suntech Australia's mission is to bring these products into the reach of the consumers who seek them. Backed by an
ISO9001
certified manufacturing facility and the resources of some of the worlds leading photovoltaic scientists, Suntech products are leading the way to power our future.
Suntech Australia is partnered with
Suntech Power Co.
to give consumers access to quality products with unparalleled customer service.
Suntech Power Co. Ltd. is a Chinese-Australian joint venture company, specializing in research, development, manufacturing and marketing of crystalline silicon photovoltaic (PV) products. The founder of Suntech Power, Dr Zhengrong Shi, completed his PhD degree at the University of New South Wales, Australia under the expertise of Prof. Martin A. Green - a well-known world leader in PV. Dr Shi has worked in many research positions, including Deputy Research Director in Pacific Solar Pty Ltd, and alone holds 10 patents for his technical inventions in PV cells or solar cells. He is a well recognised worldwide leader in polycrystalline silicon solar cell technology.
Level 11, 201 Miller Street,
North Sydney,
NSW 2060 Australia
Tel: 02 8188 2450