Windpods wind turbines - unique wind harvesting technology - Ph 02 8898 9735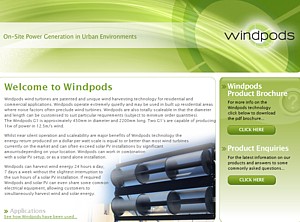 Windpods wind turbines are patented and unique wind harvesting technology for residential and commercial applications.
Windpods operate extremely quietly and may be used in built up residential areas where noise factors often preclude wind turbines.
Windpods are also totally scaleable in that the diameter and length can be customised to suit particular requirements (subject to minimum order quantities).
The Windpods G1 is approximately 450mm in diameter and 2200mm long. Two G1's are capable of producing 1kw of power in 12.5m/s wind.